Hello everyone,
Wanted to give you all a update on what happened today at the Meade County Court Hearing in regards to Jay Allen's Sturgis County Line.
Looks like we will be potentially continuing the battle. Jay Allen is pulling a fast one here to say the least. I actually spoke with this supposed "new owner" Joe Murphy and Target Companies on April 3rd, he stated to me that nothing had been formalized as far as actual partnership with Jay Allen, but it was being discussed. Interesting, to find out that he had signed a MOU with Jay Allen on February 26th and paid him $40k. That appears to be a partnership, so why did he lie to me? Or is it just another game that is being played out by Allen? I think we know the answer to that one! He knew that the regulations stipulated that any change of ownership, would be entitled to apply for the alcohol permit. If the Meade County Commissioners decide to continue the revocation, all Target Companies has to do is purchase one of the existing licenses ,that are currently for sale. Either way, they win.
Judge Bastian's decision was illegal. What he has done is write legislation at the bench, he cant do that! He has set a precedence, that if you get your license revoked, all you have to do is sell part of your business and partner with someone and you simply get it back! Now, keep in mind that this if upheld, it will not only apply to Jay Allen, this outcome could potentially effect all of South Dakota. If this was taken to a higher court to fight, the judge would immediately dismiss the ruling today, because it is not legal.
So, now its up to the Meade County Commissioners to make the "final" decision. That public hearing should be within the next 7-10 days. I attempted to speak with the State Atty this afternoon, but he wasn't available. So I will follow up with them tomorrow to see if the file has been released to the MCC, to set the public hearing date. I am also going to talk with Dean Wink tomorrow, he is our commissioner for the Bear Butte District. See what info he provides about the next steps, they will take.
The MCC will have to address several issues, including the outstanding bills to local contractors that are still owed. This is the issue that resulted in the on-sale alcohol revocation on December 5th.
Once I have the date, I will keep you all posted. I will be there to testify as well on behalf of the BB issue, and the conversation that I personally had with the "new owner" Target Company.
The next issue is, Jay Allen is expanding and is planning two additional biker rallies, which will take place at Sturgis County Line, in June and July. So, now its not just a rally issue, Jay Allen will be at this all summer! In both June & July, there will be dozens of people participating in ceremony on Bear Butte.
The next step for us is, we will be submitting a initiative for the Meade County, November ballot requesting protection for Bear Butte. We will be pounding the pavement to gather sig's and can use help! So, if you live nearby and can help, please contact me directly.
Below is a article from Hazel, it will provide additional details. The Rapid City Journal has a article coming out tomorrow, will post that once its up.
In peace & solidarity,
Tamra Brennan
Founder/Director
Protect Sacred Sites Indigenous People, One Nation
www.protectsacredsites.org
http://bearbutte.blogspot.com/
"Our sacred lands are all that remain keeping us connected to our place on Mother Earth, to our spirituality, our heritage and our lands; what's left of them. If they take it all away, what will remain except a vague memory of a past so forgotten?"
In peace & solidarity,
Tamra
www.ProtectSacredSites.org
http://bearbutte.blogspot.com/
"Our sacred lands are all that remain keeping us connected to our place on Mother Earth, to our spirituality, our heritage and our lands; what's left of them. If they take it all away, what will remain except a vague memory of a past so forgotten?"
http://www.myspace.com/protectsacredsites
Also, join our yahoo group at
Protecting our Ancestors & Sacred Sites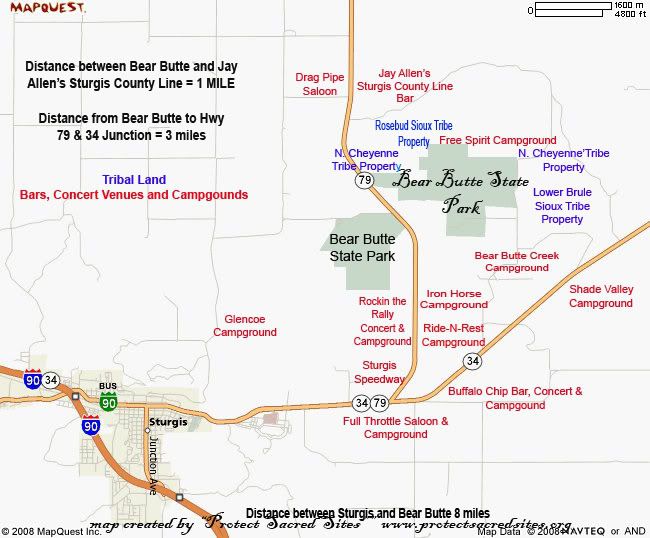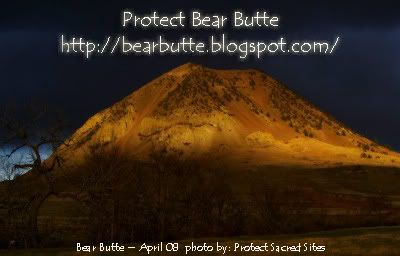 Jay Allen liquor license back at County Commission
Bastian remanded failure to issue
By Hazel Bonner
Sturgis - A hearing was held before Judge John Bastian at the Meade County Courthouse in Sturgis on April 14. His decision after hearing from Jay Allen and two witnesses speaking on his behalf, was to remand it back to the County Commission based on new information. Deputy States Attorney Ken Chleborad represented the Meade County Commission. Paul Winters, Rapid City represented Allen. Allen appealed the denial of the Liquor License and was the appellant in this case against the Meade County Commissioners.
Joseph Murphy testified for a company known as Target Logistics (TL). He stated that he met Allen in 2003 and considers him a personal friend. The relationship has changed since Allen came to him to seek assistance with the Sturgis County Line (SCL).
He said that they have begun planning for business for this year. Those plans include plans for the Combat Veterans Motor Cycle Club to have a Rally at the County Line in June and further for a Special Forces Veterans Rally and an All Forces Rally in July or prior to the Sturgis Motorcycle Rally.
Allen had informed him that he had major debts owed for the construction of SCL and that those needed to be paid. He also said that he owed money for at least two other businesses in states outside of South Dakota. .
Murphy said that David Shoe has been hired as General Manager of the SCL. County Line with eventual ownership with Target Logistics. Allen would retain a minority ownership of the business.
A binding Letter of Agreement was signed by Allen on February 26, 2008. Murphy then went into a due diligence period during which he looked at whether there were any major environmental problems. The sale of the SCL may be finalized on or about May 1.
Allen received $40,000 shortly after the signing. He will receive another payment in May. That money was paid out for debts owed by Allen to his businesses. It appears that no money has gone to any businesses in the Sturgis Area.. Though a check may have recently been sent to a Sturgis person owed by Allen.
Checks were issued by TL directly to businesseho at the request of Allen. The money has been paid out by TL to other businesses in other states owed money by Allen. All the $40,000 has been distributed.
Two businesses, the Bear Butte Sunset, L.L.C. and Sturgis County Line L.L.C. are involved. One owns the land and the other the business, though Murphy was not sure which was which.
David Shoe, Sturgis, testified that he has been hired as the General Manager of SCL. He was in charge of U.S. operations in Afghanistan and prior to that was employed by Blackwater. He was a Social Studies teacher at the Middle School level before going overseas.
As an employee of TL he oversees all operations of their properties. He became General Manager of SCL on March 14. He too considers Allen a friend.
Allen testified the he had become acquainted with Shoe at Daytona and has known him for five years. He also testified that the sale to TL will not close until on or about May 1.
Allen received the SCL liquor license from Schoenrock Arch/Inc./Mad Mary's on June 9, 2006. He had received a Malt Beverage license in the spring of 2006. In June 2007 his Malt Beverage license was not renewed. On December 5, 2007 his retail (on-
Sale) liquor license was denied by the Commission.
Allen was the last witness for the appellant. Winters requested that the Judge remand the decision back to the Commission for a decision based on new information.
Chleborad asked Bastian to dismiss based on the case being moot.
Chleborad said that not enough information had been provided at the hearing for the Commission to reconsider the license of Allen. No new owner has actually replaced Allen and that will not happen until at least May 1.
Bastian ruled following the final arguments that he had the discretion to remand the case back to the Commission. A reliable source said that the decision may be heard at a public meeting. Call Meade County Commissioners at 605-347-2360 to find out about a public meeting. A copy of agendas and minutes is on the Meade Couty website at http://www.meadecounty.org.
Submitted by Hazel Bonner
PO Box 3712
Rapid City, SD
bonpidge@gwtc.net